Knight of the Arts
DETAILS: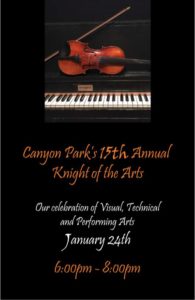 Knight of the Arts is a celebration of visual, technical and performing arts at CPMS!
The event will be held the evening of Wednesday, January 24th from 6-8pm. It will take place in the Little Theatre and the cafeteria.
Visual arts will be displayed, choir and small musical ensembles will perform, there will be drama presentations and robotics displays as well!
The school art instructor will need help setting up and taking down the visual arts displays in the cafeteria.  Can you help?
Sign up below...
January 24, 2018